Event details
Grab the opportunity to become "Skyentists" for the evening, as you and your family enjoy the wonders of the southern night sky with local amateur astronomers. See planets such as Mars or Saturn or perhaps take a closer look at the Moon. Learn about our constellations, closest stars, the galactic core and nebulae in our amazing universe.
The Canterbury Astronomical Society observatory has 3 fixed telescopes (12″, 14″ and a 16″) and an assortment of portable telescopes, which will be open during our public open night programme for 2018. Our introduction talks start at 7:30pm with a sky tour and telescope viewing until 9:00pm.
Opening will be dependent on the weather, so please check our website www.cas.org.nz before heading out to the observatory. We will post a status update before 6:00pm confirming whether we are open or not on our website.
Please note that we cannot accept gate entry to sold out events.
Due to weather, we may run a cloudy night programme – details will be published on the website. Or alternatively you may request a refund and be given the opportunity to re-book on-line. We may occasionally run a replacement event on a following Friday – if that happens, your tickets will be automatically transferred.
If you are not able to attend, you can request a refund up to 7 days before the event starts, but refunds or re-bookings are not available after this time, unless the event has been cancelled by weather.
If you need to contact us after you have purchased tickets, please use the contact organiser link in the email that contained your ticket information.
On the night of your visit
The home page of the CAS website will be updated no later than 6:45pm, advising whether the observatory is open or closed. The observatory may be closed during wet weather, so check the home page before visiting to avoid disappointment.
On cloudy evenings, a cloudy-night presentation and discussion will be held. Please dip your headlights before arriving. Onsite parking is reserved for society members, please angle-park on the roadside, outside the observatory. Please wait outside the gate until 7:20pm as it will be dark and astronomers will be moving about setting up equipment. Walk down the driveway towards the lodge, following the red lights. Suggestions to improve your viewing experience
Dress Warm We recommend that you dress warm, as the telescopes (and you) are exposed to the winter night air.
No torches Becoming dark-adapted is essential for seeing the faint fuzzies that make up the deep sky. It takes 10-15 minutes for the pupil in your eye to expand to its maximum aperture. Over another 15 to 20 minutes, a chemical reaction in the eye kicks in that further boosts its sensitivity. A single shot of white light can ruin your night vision for up to 30 minutes.
No flashing shoes. If your shoes have flashing lights in the heels, please ensure they are covered or taped up.
Skymap Free maps of the night sky available at www.skymaps.com each month – great for the kids. Make sure you get the southern hemisphere map!
More information at Canterbury Astronomical Society Outreach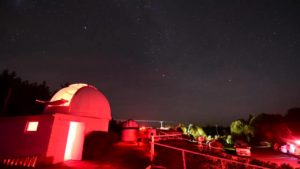 1

Attending Event


Yes, I will attend

0

Maybe


Not sure I will attend

0

Not Attending


No, I will not attend